The Ecoflo Filter from Premier Aqua is a sustainable package treatment unit and major innovation in sewage treatment which replaces the sand polishing filter – with no assembly needed. The major benefit of the Ecoflo Filter is that it just lifts into place on site. Another major benefit of the Ecoflo Filter is that it comes with a 10 year guarantee.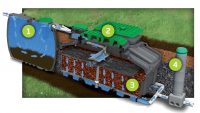 When the coco filter media is eventually wasted (10 years plus) it's as simple as emptying the septic tank and replacing the media. There are no messy pipes to unblock or remove, simply replace the coconut shell media. This innovative package treatment system incorporates a patented coconut husk fragment-based tertiary filtering media which is a rehabilitated and natural organic material. The Eco-flo Filter system and eco-friendly media requires no energy to treat wastewater.
Economical Sand Polishing Filter Alternative
The Ecoflo Package Treatment used as tertiary treatment can greatly reduce the percolation area or polishing filter size and is ideal for small restricted sites.
No Assembly Needed
Sustainable Treatment
Permanent and Durable Solution
Reliability under all Conditions
Compact All-Purpose Installation
10 Year guarantee
Upgrade Your Existing Septic Tank to Ecoflo
The Ecoflo Filter package treatment unit from Premier Aqua is designed for all types of new homes, bungalows or cottages as well as the the replacement of old defective septic systems.
Upgrading your existing septic tank is a straight forward process when you choose Premier Aqua. We provide a complete turn-key septic tank upgrade service.
For more information or to arrange a free initial consultation, please submit the Contact form.