The Ecoflo Coco Filter sewage treatment system is the best ecological solution on the market for residential and commercial applications in Spain today. The coco media filter system is EN12566:Part 3 certified, requires no electricity or energy source in many applications and is ideal for sites with poor percolation or no mains drainage. Watch the Ecoflo Ecological Septic System video to see a typical installation.
---
The Ecoflo Coco Filter is a revolutionary system incorporating a patented coconut shell based filtering media and supplied from the factory in a HDPE tank. The septic treatment system is exceptionally reliable, using a rehabilitated and natural organic material which treats the wastewater using no energy.
The unique environment friendly unit surpasses the most stringent environmental requirements. The Ecoflo is a low cost option in many applications, easy to install, operate and maintain. In fact, the Ecoflo Coco Filter is a favourite natural septic treatment filter system worldwide. The Ecoflo can serve a population range from 4 and upwards. Additional pumping maybe required to move the treated water depending on local conditions and site levels.
Ecoflo Filter Benefits
Small Footprint
Requires no electricity or power source
Easy and fast installation
Plug and play ready to use
Low cost option
Factory built
PIA Germany certified
70% reduction in BOD and Suspended Solids
85% reduction in total nitrogen and ammonia
Log 4 kill/99.9% reduction in pathogens
Long life – Coco media lasts up to 15 years or more
Ecological Septic System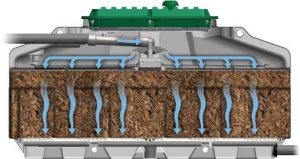 The Ecoflo unit is ideal for Spanish conditions and can be used from standard residential properties up to small commercial buildings, and due to its ability to cope with periods of little or no use, is ideal for holiday homes and rental properties. With no smell, no noise and an exceptionally high quality of final effluent, the Ecoflo Coco Filter is particularly suitable for areas with sensitive surroundings.
The Coco Filtering technology is designed for a prolonged lifespan and can last from 10 to 15 years. Thanks to the easy access lid, no excavation or relocation is required when the coconut husk filter media needs replacement or maintenance.
The Ecoflo system can also be used with an existing septic tank to upgrade or repair an existing percolation area (the Ecoflo is certified to EN12566:Part6).
The Ecoflo is designed to effectively purify domestic wastewater in any situation and comes with a guaranteed maintenance life of ten years. Exceptionally compact and modular, this septic treatment system is particularly suited for tight spaces.
For more information on the EcoFlo system, please submit the Contact form.